Cancer Care Map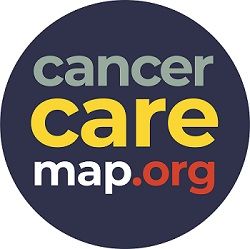 cancercaremap.org is an online directory that helps people find cancer care and support services in their local area. People with cancer, their friends and family can either search for a service or can browse the types of services available. It uses stories and videos to show how the services have benefited other people living with cancer and sign-posts services across the country whether they are charity funded, community based or NHS led.
cancercaremap.org aims to join up care services to make sure that no person goes unsupported because they are not aware of a service in their local area. It is tailored to people with cancer, and their family members. It is also designed for healthcare professionals to use in consultations.
The original idea came from a very real need from someone who needed help. As Jonathan Dimbleby explains, "In 2013 a friend asked me to source cancer services for his wife. I realised there was no comprehensive resource I could use to do this. I went to the Board of The Richard Dimbleby Cancer Fund which I chair and we discussed the possibility of developing our own site to make sure that nobody goes without the care they need."
The charity commissioned a piece of research to look at what was already available in terms of sign-posting and to map the support services in the South East London area. cancercaremap.org was developed with the input of a group of current and former cancer patients, carers and clinical staff.
This project has been made possible in part by a grant from Postcode Community Trust, a grant-giving charity funded entirely by players of People's Postcode Lottery, funding from The Richard Dimbleby Cancer Fund.
cancercaremap.org is run by the team at The Richard Dimbleby Cancer Fund, formerly Dimbleby Cancer Care, and is a Registered Charity No. 247558.